The Global ESCO Network is operated by a Steering Committee and a Secretariat. They have partly overlapping roles and in daily operation function as one entity. In addition, an Advisory Committee is providing guidance and expertise for the overall direction of the Network's activities.
For ESCO Associations affiliated to the Global ESCO Network, click here.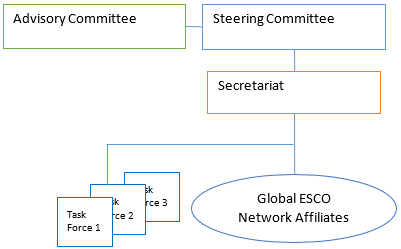 The Steering Committee
For strategic outreach and operationalization of its mission, the Global ESCO Network is organized with a steering committee, currently with two members but with possibility for expansion.
Secretariat
The Global ESCO Network has its Secretariat anchored in the Copenhagen Centre for Energy Efficiency (C2E2) and the Efficiency Valuation Organization (EVO) having entered a Memorandum of Understanding for the operation of the Network.
C2E2 is the global thematic hub for energy efficiency of the UN Secretary General's Sustainable Energy for All (SEforALL) initiative and is further part of the formalized collaboration with the United Nations Environment Programme and the UNEP Copenhagen Climate Centre based at the UN City complex in Copenhagen.
EVO is a non-profit organization whose products and services help people engineer and invest in energy efficiency projects worldwide. EVO´s Vision is to create a world that has confidence in energy efficiency as a reliable and sustainable energy resource. EVO´s Mission is to ensure that the savings and impact of energy efficiency and sustainability projects are accurately measured and verified.