The Global ESCO Network is operated by a Steering Committee and a Secretariat. They have partly overlapping roles and in daily operation function as one entity. In addition, an Advisory Committee is providing guidance and expertise for the overall direction of the Network's activities.
For ESCO Associations affiliated to the Global ESCO Network, click here.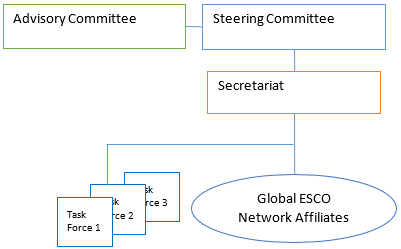 The Steering Committee
For strategic outreach and operationalization of its mission, the Global ESCO Network is organized with a steering committee, currently with two members but with possibility for expansion.
Secretariat
The Global ESCO Network's Secretariat is co-managed by the UNEP Copenhagen Climate Centre (hereinafter UNEP CCC) and the Efficiency Valuation Organization (hereinafter EVO), having entered a Memorandum of Understanding for the operation of the Network.
UNEP CCC is the dedicated climate change centre of UNEP. It also operates the global thematic hub for energy efficiency of the UN Secretary General's Sustainable Energy for All (SEforALL) initiative, the 'Copenhagen Centre on Energy Efficiency', to which the Global ESCO Network is affiliated. This institutional complex is based at the UN City in Copenhagen.
EVO is a non-profit organization whose products and services help people engineer and invest in energy efficiency projects worldwide. EVO´s Vision is to create a world that has confidence in energy efficiency as a reliable and sustainable energy resource. EVO´s Mission is to ensure that the savings and impact of energy efficiency and sustainability projects are accurately measured and verified. It is among others the author and the publisher of the International Performance Measurement and Verification Protocol (IPMVP).
The Global ESCO Network operates without formal membership, but will build on associating existing National and Regional ESCO Associations and global bodies that are related to ESCO sector development. The Global ESCO Network is mindful to reinforce rather than duplicating efforts of associations. No association fee is charged, but all associated "members", including UNEP CCC and EVO in their function as Secretariat, bear their own costs of association.